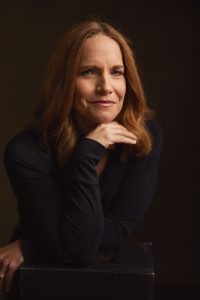 Sandy Stark-McGinnis was born in California. Early childhood dreams: Play quarterback for the Los Angeles Rams, or become a forest ranger. Instead, she became something more inspirational, a teacher.
Currently, she teaches fifth grade, and is amazed and inspired by her students every day. She spends her time reading (of course), and traveling with her husband and two children. Sandy believes her thirteen years as a competitive swimmer trained her to have the discipline and perseverance to journey through a writing life. Her middle grade debut, EXTRAORDINARY BIRDS, was released by Bloomsbury On April 30, 2019.
From Sandy:
This is a certificate I received in second grade. It was given to me by my teacher, Mrs. Amador. I remember it meant a lot to me at the time because it was for "Most Improved in Reading, " and I struggled in reading. Not only did I struggle in reading, I struggled in pretty much every subject—all the way through elementary school.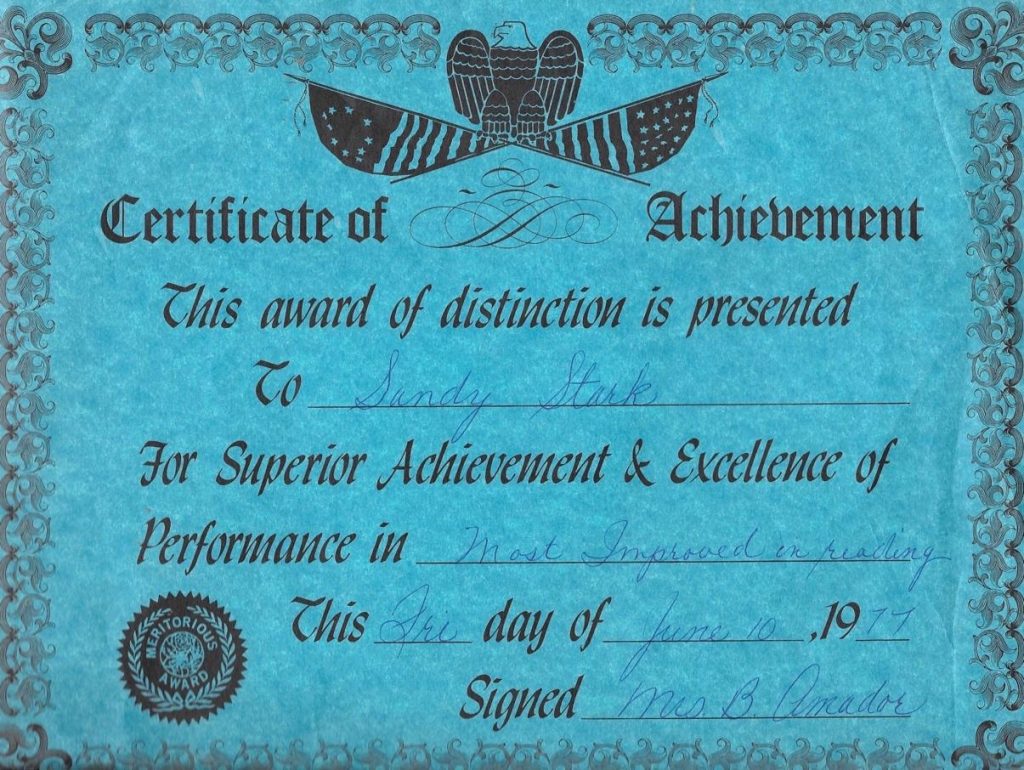 I didn't become a "reader" until I was in college and my love of story didn't come from books, it came from watching movies. As a college student at UC Santa Barbara, I majored in film studies. Watching different genres of film opened up the world to me, and inspired me to want to find out more about people and their stories. And, I started to read, especially novels and poems, which eventually led me to writing.
At first, I wrote poetry. Tons of it. When I would go home to the town where I grew up, I'd get in my car with a 35mm camera, and take photographs of everyday objects—railroad tracks, abandoned houses, homemade signs people would hang on light posts. Lots of these things went unnoticed by people, or were considered uninspiring. I thought different! I would use these photographs to inspire poems. As I would read through them, I noticed there were characters behind the poems, and I wanted to explore the element of voice in a longer and deeper way. I started writing novels and decided to study creative writing at San Francisco State University (graduating with my Master's degree). I ended up also pursuing a teaching credential—I've been teaching elementary school (kindergarten, first, second & fifth grade) for more than fifteen years. In all those years, I never stopped writing, and several years (a lot!) later, Extraordinary Birds was published.
In my journey to publication, this was the most important wisdom that has proven true: You have to work hard. You have to know your work will be rejected but you can't let it stop you. If you're passionate about what you want to do, you will keep going.
Interviews with Sandy:
http://joannamarple.com/2019/04/30/author-interview-sandy-stark-mcginnis/
https://fromthemixedupfiles.com/2019/03/author-spotlight-sandy-stark-mcginnis/
https://www.sofiyapasternack.com/post/author-interview-sandy-stark-mcginnis
https://readingzone.com/index.php?zone=sz&page=interview&authorid=a1c97abe1c7e3cedff77a5f661fd0291