Praise for Extraordinary Birds:
California Book Awards Finalist (Juvenile Literature)
Finalist for 2019 Northern California Book Awards (Children's Literature)
Nominated (long-list) for the 2019 Golden Poppy Award (Middle-Grade)
Italian edition of Extraordinary Birds (published by Mondadori, translated by Giuseppe Iacobaci) is the winner of the 2020 Rodari Prize (in the novels/short stories category)
---
"A beautiful story filled with heart."
–Holly Goldberg Sloan, author of Counting by 7s and coauthor of To Night Owl from Dogfish
"A heartbreaking and hopeful story about a young girl who learns the power of kindness and the beauty of belonging."
School Library Journal, Starred Review
"Poignant… This heartbreaking but ultimately redemptive middle grade novel shows the beauty of accepting one's true self and finding a place to belong."
–Foreword Reviews, Starred Review
  "With an endearing and diverse cast of characters, this is a unique debut novel with an inspiring message of hope, determination, and fortitude… Highly Recommended."
–School Library Connection, Starred Review
"This soulful story will wing its way straight into your heart."
–Jess Keating, author of the My Life is a Zoo series
"Such a tender story. You'll root for this bird-loving girl to soar."
–Sally Pla, award-winning author of The Someday Birds
"An emotional tale about finding one's home and facing one's truth… An extraordinary debut!"
–Ellie Terry, author of Forget Me Not
"Stark-McGinnis nimbly constructs poignant relationships born of reciprocal patience, trust, and understanding, and December's connections with Eleanor, Cheryllynn, and the red-tailed hawk feel authentic and earned…. This sensitive debut is a sincere and hopeful exploration of family, history, and belonging from a promising new voice."
–Publishers Weekly
 "Stark-McGinnis' prose is carefully crafted, direct, and convincing."
–Kirkus Reviews
"Stark-McGinnis adds a vivid artistic flourish with the avian theme… a gracefully written modern take on the orphan story."
–BCCB 
 "This ably constructed first-person narrative is meant to tug at the heartstrings and it surely does, encouraging readers to hope for a happy ending to this affecting story."
–Booklist
Some of the first fans of Extraordinary Birds were wonderful independent booksellers, teachers, and librarians.  Sandy is so thankful for their early support!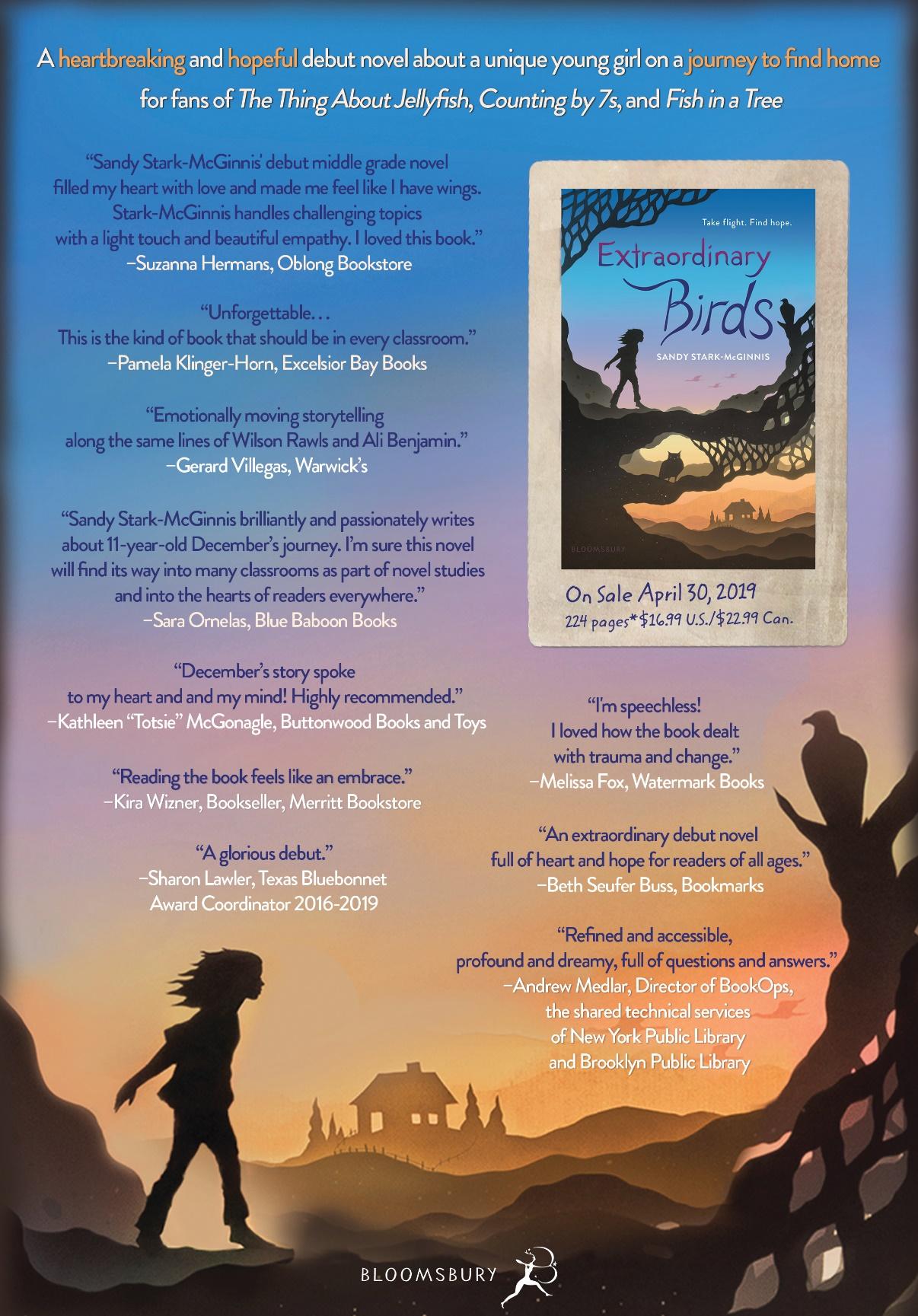 "OMG – Extraordinary Birds is one of the best middle grade books I've read.  It felt similar to Louisiana's Way Home but had even more heart.  I read it in one sitting. I wanted to find December, wrap her up in a quilt and make her hot chocolate.  I'm a birder, and loved how birds were such an integral part of the story."
–Jane Bramley, Hicklebee's, San Jose, CA
"An uplifting novel that will resound with readers looking for hope and kindness in a world filled with disappointment."
–Dana Hutchins, Librarian, North East Independent School District, San Antonio, TX
"A genuine story about friendships, trust, and finding a new home."
–Paige Bentley-Flannery, Librarian, Deschutes Public Library, Bend, Oregon
"With relatable themes of hope, determination, and survival, this character will have readers rooting for her long after they close the book. A beautiful read."
–Michele Knott, literacy specialist and blogger at Mrs. Knott's Book Nook
"Next spring, choose Extraordinary Birds."
–Stacey Rattner, Leaping Librarian, Castleton Elementary School, upstate New York
"A tender, achingly beautiful tale… It's a book that lingers with you, a reminder of "I'm here for you," touching you long after you've closed it."
–Kate Wagner, Second Star to the Right Books, Denver, CO
"Extraordinary Birds is, above all, a story of hope and determination… The poetic quality of the writing as well as the aptness of the bird metaphor is wonderful!"
–Trish Brown, One More Page Books, Arlington, VA
"Equal parts heartbreaking and heartwarming."
–Summer Dawn Laurie, Books, Inc, San Francisco, CA
"My heart broke for December a million times during this breath-taking novel."
–Therese Stanford, Oblong Books, Millerton and Rhinebeck, NY
"Extraordinary Birds covers topics that could easily veer into heavy-handed moralizing, but instead Stark-McGinnis has given us simple stories of complex people and allowed the reader to make connections and come to conclusions on their own.  A quiet but powerful debut from an author to watch."
–Sarah Holt, Left Bank Books, St. Louis, MO
"A sweet story about a foster child trying to find her place in the world. As December begins to have hope for a forever home, she's forced to let go of the life she always thought she'd have. This is a beautiful debut novel!" –Melissa Taylor, E. Shaver Bookseller, Savannah, GA
"December's story will weave its way into your heart. Sandy Stark-McGinnis beautifully expresses our universal desire for love, self-acceptance, and hope."
–Sarah Carr, McIntyre's Fine Books, Chatham County, NC
"Heartbreakingly beautiful… The love and friendships that develop that build hope and trust for December just make an absolutely lovely read.  I was trying really hard not to snivel too much as I finished the book on my flight home from Winter Institute."
–Debbie Buck, Vintage Books, Vancouver, WA
"It is no surprise that Sandy Stark-McGinnis is a teacher and interacts with students on a daily basis. Her characters are realistic and leap off the page."
–Rae Anne Parker, Parnassus Books, Nashville, TN