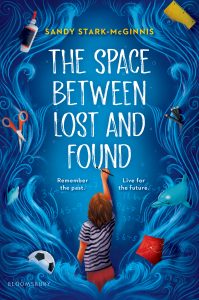 The Space Between Lost and Found has been selected as one of Bank Street's Best Books of the Year.

Cassie's always looked up to her mom, a vivacious woman with big ideas and a mischievous smile. Together they planned to check off every item on a big-dream bucket list, no matter how far the adventure would take them. But then Mom was diagnosed with early-onset Alzheimer's disease, and everything changed.

Now, Cassie tries to keep Mom happy, and to understand some of Dad's restrictive new rules. She tries to focus on math lessons and struggles to come up with art ideas that used to just burst off her pen. When Mom's memories started to fade, so did Cassie's inspiration. And even worse, she's accidentally pushed away Bailey, the one friend who could make it all okay.

After the worst Mom day yet, the day she forgets Cassie's name, Cassie decides to take action. It's time for one last adventure, even if it means lying and taking a big risk to get there. Sandy Stark-McGinnis, acclaimed author of Extraordinary Birds, explores big questions – the kind that don't always have answers – in a powerful story about family, friendship, and the memories that will always be part of us.
THE SPACE BETWEEN LOST AND FOUND is available at the following retailers.
Indiebound | Book Depository | Amazon | Barnes & Noble
Available soon in Korean and Chinese.